About Us
Our Services
O2 Business
Latest News
OxyAire-Brush Gun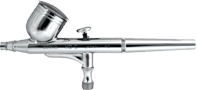 No facial can be completed without the power of an OxyAire Brush Gun delivering the missing nutrients into your client's skin.
To get pricing information on this product, please call 626-255-6884.
Features:
Specs:
Service Perks:
Testimonials:
If you are a customer searching for OxyAire Oxygen Facial Services, then click here to find the location nearest you.
Before & After

Products
Start Now
Having your own OxyAire Spa Equipment is easy. Simply fill out the form below for a free OxyAire demonstration.