About Us
Our Services
O2 Business
Latest News
OxyAire O2 Generator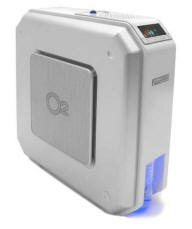 The OxyAire O2 Generator is not your average oxygen bar. This generator was designed to be used during spa facials, massages. It's light weight, ultra quiet and portable.It is recommended for home use, corporate, medical, sport, health spas & schools. Perfect for beauty schools graduates too!
To get pricing information on this product please call 626-255-6884 or send us an inquiry.
Features:
The OxyAire O2 Generator is the leading spa technology in oxygen therapy units. This is a state of the art oxygen producing machine. The user takes the oxygen via a headset or a nose hose through an internally attached humidifier bottle. The unit produces negative ions and can be used to produce more oxygen in a closed environment.
Specs:
Size: 36cm(d) x 15cm(w) x 36cm(h)
Weight: Less than 5kg
Timer: Up to 90 minutes
Power: Ac220-240v 60/50hertz 60w
O2 Generator Method: Membrane at 3lpm
O2 purity over 30% with oxygen dispenser
Negative Ion Generator: Clean fresh oxygen
Can be used as a Vending Machine
Service Perks:
Free Delivery
Free Installation
Free One on One Training
Affordable Solution to Generate More Profits
Free Aroma Therapy Oils
OxyAire Extended Warranty
Free Machine Maintenance
If you're a customer who is looking for oxygen therapy treatment, please click here to find a location.
Before & After
Products
Start Now
Having your own OxyAire Spa Equipment is easy. Simply fill out the form below for a free OxyAire demonstration.